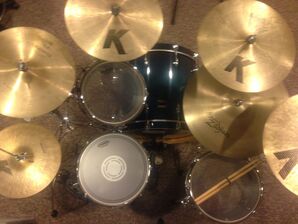 Troy Gardner (b. November 10, 1968) is an American drummer and recording artist from Massillon, Ohio.
Career
Troy started playing drums at the age of 16 with his first Rock cover band in High School known as Red Sonia in 1985 then once recruited into the U.S. Air Force played drums for another cover band Double Take located in the Philippines from 1988-1990. Upon his return to Ohio from overseas was the drummer for an original Indie-Rock group Bangtime Albatross featuring front man and singer songwriter Matt Amos which the band was showcased at the 1994 Philidelphia, PA Music Conference (PMC). Then responding to a local newspaper ad auditioned for another original group from Akron, Ohio The Darlings which later evolved into Phizzy Lager when the lead singer was replaced by French Singer song Writer Lili Roquelin releasing their album "A Taste of Departure" recorded by Troy in 2004. Troy later became the drummer for then Christian Contemporary original rock band Barefoot Prophets that was once the opening act for well known recording artist Pocket Full of Rocks. Starting in 2015 and currently playing Cajon for the Legendary Mr. Louie Misheff and Gordon Oliver in two separate acoustic duo's known as The Louie and Troy Show and Gordon and Troy Live. And in 2018 on full kit with the now high energy modern country 5 piece Aaron Axel Band.
Troy plays a Blue Gretsch Renown Maple 4 piece drum kit with a hybrid of both Zildjian K and Paiste 2002 cymbals and Gibralter hardware. Pro-Mark American Hickory TX5BW sticks and a Roland SP One WAV pad loaded with various sounds of assignable WAV files.
List of Projects
Discography
with Bangtime Albatross
Bangtime Albatross s/t

(1994)
with Phizzy Lager
A Taste of Departure

(2004)
External Links