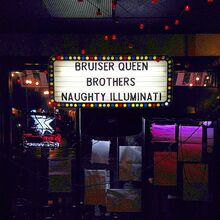 Members
History
Started by Johnny Neiman (Then going by Alex Simpson, as this was before the alias was created) and Nick Null in 2011, The Naughty Illuminati started out as a two-piece, acoustic folk-punk act, mainly playing versions of Johnny's original material.
Playing at several open mic night shows in downtown Canton, the group were mostly dormant as Johnny was at the time attending university, though songs were still being written. The group's first "full length" show was at Annabel's in Akron, Ohio, on 10/24/2013. This show was for Paul Rogers's birthday.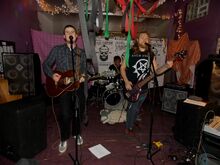 In 2014, Aaron Perez-Strohmeyer was added to the band as a drummer. As soon as the band became a three-piece, shows were immediately scheduled and played within a month of Perez-Strohmeyer's addition. Alex Sadler was added shortly after as a drummer, to allow Strohmeyer to play bass, which moved Null to the position of lead guitar. The group only played one or two shows with Sadler before parting ways, due to personal and scheduling conflicts. The most notable (and final) show was the Canton Froth Fest on January 2nd, 2015. The Naughty Illuminati played this show as their former lineup of Strohmeyer on drums, Null on bass, and Neiman on guitar and vocals.
The group was disbanded after the show, with Strohmeyer citing the need for more family time. The group is on an indefinite hiatus.
Discography
Adrian (single) - 2013
Legacy (EP) - 2014
All releases from The Naughty Illuminati were recorded, mixed, and mastered by Null.