(5 intermediate revisions by one other user not shown)
Line 1:
Line 1:
 
+

{{000_-_Band}}

−

kent

 
 
+

[[File:Hyper as Hell.jpg|thumb]]

 
+

'''Hyper as Hell''' is an American band from [[Kent]], Ohio.

 
 
 

== History ==

 

== History ==

 
+

Formed in early 1986 in Kent, Ohio by Donny, Boom, Howard and Dicky, before recruiting guitarist Ron E. Banner in September, solidifying the original lineup. HAH soon began gigging prolificially with dozens of Cleveland bands such as [[Blood of Christ]], [[Domestic Crisis]], [[False Hope]], [[Sin-Eater]], [[Civil Disobedience]], [[Decimation]], [[Blatant Disregard]], [[Verrucose]], Schnauzer and many, many more. Released 2 album-length demo tapes "Primer At This End" in 1987 and "Rock'n'Roll Liberation Front" (later re-named "Spontaneous Combustion" and again re-named "Armed and Dangerous" on one of several re-issue demos alongside "Primer At This End") in 1989 before going on hiatus due to legal and drug problems.

 
+
 
+

In 1988 original drummer Boom moved to California, and the band went through several brief periods with different drummers before eventually choosing [[Synastryche]] drummer Matt Apanius as their new full-time drummer, recording their 2nd album-length demo with him in 1989. Went on hiatus from 1990 to 1993 before reuniting with a new drummer, Verrucose's Matt Lindsay and recording "Mr. FixIt" in 1993, before disbanding for good in 1994.

 
+
 
+

Most members lost contact over the years, until the death of Jeff "Howard" in 2014 in a surfing accident, leading the members to get back in touch. In 2018 they reunited again and have planned two shows, and are working on a gatefold double-vinyl of "Primer At This End / Rock'n'Roll Liberation Front", remastered from the original DAT tapes and with rare bonus tracks.

 
+
 
+

Their demos and reissue tapes all have extensive inlays, lyrics, additional artwork, etc. and most with hand-cut, or hand-written tape labels (except for "Mr. FixIt" which has pro-pressed tapes but no fold-out inlay).

 
+
 
+

Ron E. Banner and Donny Brown both collaborated with the multi-genre post-False Hope band Asphalt on their 1994 album (which was recorded earlier and compiled after the death of David Nicholi Araca), before Don joined them fully for a brief period, singing on their "Hotdogneckboneschoolbusdriver" 7".

 
 
 

== Members ==

 

== Members ==

−

* [[Donny Brown]]

+

* [[Donny Brown]]

 
+

* [[Howard Jeffrey Hutchings]] - Guitar

 
+

* [[Ron E. Banner]] - Guitars (1986-1990, 1993-1994, 2018-present)

 
+

* [[Rich "Dicky" Gambert]] - Bass (1986-1990, 1993-1994, 2018-present)

 
+

* [[Matt Apanius]] - Drums (1988-1990, 2018-present)

 
+

* [[Matt Lindsay]] - Drums (1993-1994), Guitars (2018-present)

 
+

* [[Boom]] - Drums (1986-1988)

 
 
 

== Discography ==

 

== Discography ==

 
+
 
+

==== '''Demos''' ====

 
+

* [[Primer at this End (Version 1)]] (1987)

 
+

* [[Primer at this End (Version 2)]] (1987)

 
+

* [[Rock'n'Roll Liberation Front]] (1989)

 
+

* [[Mr. Fixit]] (1993)

 
+
 
+

==== '''Compilation Albums''' ====

 
+

* [[Primer at this End / Armed and Dangerous]] (1990)

 
+

* [[Hyper as Hell (Hyper as Hell Compilation Album)]]''' '''(2018)

 
 
 

== External Links ==

 

== External Links ==

−

Facebook - https://www.facebook.com/HAH666/

+

Facebook - https://www.facebook.com/HAH666/
---
Latest revision as of 07:33, 31 March 2021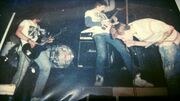 Hyper as Hell is an American band from Kent, Ohio.
History
Formed in early 1986 in Kent, Ohio by Donny, Boom, Howard and Dicky, before recruiting guitarist Ron E. Banner in September, solidifying the original lineup. HAH soon began gigging prolificially with dozens of Cleveland bands such as Blood of Christ, Domestic Crisis, False Hope, Sin-Eater, Civil Disobedience, Decimation, Blatant Disregard, Verrucose, Schnauzer and many, many more. Released 2 album-length demo tapes "Primer At This End" in 1987 and "Rock'n'Roll Liberation Front" (later re-named "Spontaneous Combustion" and again re-named "Armed and Dangerous" on one of several re-issue demos alongside "Primer At This End") in 1989 before going on hiatus due to legal and drug problems.
In 1988 original drummer Boom moved to California, and the band went through several brief periods with different drummers before eventually choosing Synastryche drummer Matt Apanius as their new full-time drummer, recording their 2nd album-length demo with him in 1989. Went on hiatus from 1990 to 1993 before reuniting with a new drummer, Verrucose's Matt Lindsay and recording "Mr. FixIt" in 1993, before disbanding for good in 1994.
Most members lost contact over the years, until the death of Jeff "Howard" in 2014 in a surfing accident, leading the members to get back in touch. In 2018 they reunited again and have planned two shows, and are working on a gatefold double-vinyl of "Primer At This End / Rock'n'Roll Liberation Front", remastered from the original DAT tapes and with rare bonus tracks.
Their demos and reissue tapes all have extensive inlays, lyrics, additional artwork, etc. and most with hand-cut, or hand-written tape labels (except for "Mr. FixIt" which has pro-pressed tapes but no fold-out inlay).
Ron E. Banner and Donny Brown both collaborated with the multi-genre post-False Hope band Asphalt on their 1994 album (which was recorded earlier and compiled after the death of David Nicholi Araca), before Don joined them fully for a brief period, singing on their "Hotdogneckboneschoolbusdriver" 7".
Members
Discography
Demos
Primer at this End (Version 1)

(1987)

Primer at this End (Version 2)

(1987)

Rock'n'Roll Liberation Front

(1989)

Mr. Fixit

(1993)
Compilation Albums
Primer at this End / Armed and Dangerous

(1990)

Hyper as Hell (Hyper as Hell Compilation Album)

(2018)
External Links